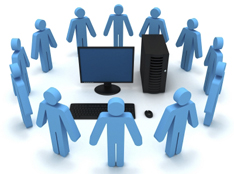 Technology Training & Consulting
Halpern & Associates combines years of expertise in proprietary communication techniques and effective educational strategies with our in-depth, hands-on knowledge of the nuances of the most popular software programs. This unique skill-set enables us to communicate in clear, vivid terminology the key features of each program, thus rapidly increasing productivity and ease-of-use.
The net result: memorable training that produces a high rate of retention, expanded competence, and an increase in employees' commitment to your organization.